Denali: extra mile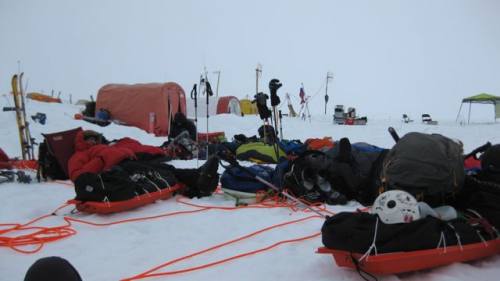 Some times "an extra mile" is a figure of speech – one does not need to move to demonstrate the attitude.
After climbing Denali we marched down all night to reach the base camp before 6 a.m. Having spent almost 3 weeks in the tent, vision of hot shower back in Talkeetna was a strong motivator. Booking a flight in Denali Base Camp works on "first come – first served" basis and some times, due to the short weather window, only one plane is able to fly in. We hurried all night with no breaks and arrived first only to discover that next plane is expected…4 to 6 days from now, due to strong overcast. Patience. Denali asks for "an extra mile".
Here our team refuses to believe that tents are to be build yet again.
This entry was posted on Tuesday, March 26th, 2013 at 2:12 pm
You can follow any responses to this entry through the RSS 2.0 feed.